In general, courier booking software has been designed to help businesses like yours manage their day-to-day distribution needs a lot more effectively and with greater efficiency. By getting rid of paper and the reliance on email to manage the process, courier booking software makes the best use of the resources available. Each booking and tracking procedure becomes more seamless and transparent by eliminating endless paperwork and offering it all in an easy-to-use software solution.
Here's why the right courier booking software can be so useful.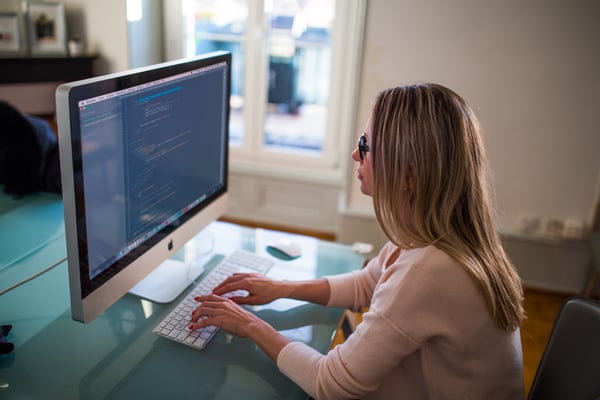 Courier booking software can help you in several ways, especially since it's designed to make the shipping and receiving process more consistent, effective and accurate.
Why Courier Booking Software is Useful
As a whole, the majority of courier booking software is generally useful in the following ways:
Through software, you can interact with services and features which save plenty of time rather than back and forth communication with your courier.

Courier booking software makes it both easier to book deliveries and easier for customers to track shipments.

Pickup requests can be made easily without paperwork or long-winded processes so deliveries can be confirmed and finalised much quicker.

Courier booking software keeps vital information safe, so only those with authorised access and relevant credentials can access certain details.

You're able to manage your inventory much easier. Errors can be avoided when entering booking details and duplication can also be eliminated. That means no more confusing spreadsheets.

With cost calculators, different prices can be checked much more easily for varying services.

There's more consistency and reliability, as manual processes can allow errors to creep through and these processes can also be forgotten easily.

There's also satisfaction overall, as courier booking software is more user friendly and information can be retrieved much quicker.

With greater reliability and consistency, courier booking software can provide better accuracy as well as to exactly where shipments are up to and when they'll arrive.
While those benefits are welcomed by everyone involved in the shipping and receiving process, it's something a lot of people now expect with the big role technology continues to play.
Courier booking software can be more thorough in its features yet still simple to use, and that's where myCrossflight comes in.
The myCrossflight Difference
At Crossflight, we're proud to be one of the first courier companies in Europe that received the important AEO accreditation, with the internationally-recognised mark of quality reflecting our reliable, secure and flexible services. This accreditation and our own courier booking software, myCrossflight, are two of the reasons that many companies choose to work with us.
We're different from other couriers because we have an in-house team of developers who've created this bespoke tool for our clients to use. Most others don't have this luxury and as a result, they can't offer the same level of service.
The innovative myCrossflight courier booking software is an all-in-one hub which contains plenty of useful and user-friendly tools and features. The platform has been designed specifically to make sure the shipping process is as easy and as flexible as possible, from the very beginning to the very end.
Through myCrossflight, you're able to effortlessly create detailed shipping documentation, organise the collection of shipments, track the progress of your shipments through to delivery and so much more. With so many easy-to-use useful features and tools - which we'll highlight below - you can take the hassle out of shipping.
Shipping Using myCrossflight
In the shipping feature of myCrossflight, you can do a lot more than request collections or organise shipments to send out. While those are still two beneficial features you'd expect to have in a courier booking software, you can use myCrossflight to complete detailed waybills by filling in your details and who you're sending goods to.
You're also given two options to create a proforma through myCrossflight, either at the same time as you create a waybill or after the waybill has been created. Either way, it saves a lot of time and can be done within minutes.
Other useful features of the myCrossflight shipping tool include the ability to create a manifest, request collections and even access a cost calculator by filling in minimal details such as the weight and the country you're shipping to.
There are also useful features that let you manage deliveries, profiles and accounts as well as review the shipments you've sent through dates, numbers, invoices and manifests which makes it a lot easier and more efficient to find the shipments you're looking for as everything is logged in one place.
Stock Management With myCrossflight
The comprehensive stock management feature on myCrossflight is fully integrated with our bespoke in-house management tool, letting you configure the details of any stock Crossflight is storing on your behalf right through to creating orders and tracking the progress of those same orders.
This feature in myCrossflight is incredibly useful, as creating orders is easy through a familiar shopping cart style. The instant orders are created, our operation staff are notified and get to work on the order.
New terms can be created when managing stock too, such as editing codes, descriptions and other attributes. How does this help you? Well, changes to the minimum level of a stock line have an impact on re-order reports which help you to replenish your stock efficiently.
Along with the orders you create, the stock management feature in myCrossflight is also very useful because it's easy to search the orders from the moment they enter the system. As soon as this happens, goods can be tracked and you can review delivery details.
Inbound Delivery Management With myCrossflight
The unique difference of myCrossflight is the inbound delivery management system. It's a beneficial tool that lets you keep track of your imports, as we understand the importance of inbound shipments as well as outbound.
We're also able to supply hardware to enable signature capturing when you receive a delivery and when packages are collected. This helps by giving you added traceability while search results can be exported into spreadsheets that are easy to analyse.
Imports are made easier and painless as myCrossflight offers a large number of open entry fields to provide greater flexibility to use the system that suits your needs. With myCrossflight, you'll also have the peace of mind that all delivery records are archived and can be easily accessed within seconds.
myCrossflight is just one of the aspects that helps ensure that items sent with Crossflight are successfully shipped. We make sure the right documentation is filled out so there's never any hassle with problems along the supply chain. We also have a comprehensive understanding of customs clearance requirements and so much more - all while offering a bespoke and personal service, combined with the ease of using myCrossflight as your courier booking software.
See How Else Crossflight Ranks Alongside Other Couriers
Picking the perfect courier service can be a difficult decision to make, even with courier booking software like myCrossflight, if you're new to exporting. However, myCrossflight isn't the only feature that sets us apart from other available alternatives.
To break down the comparisons and help make your decision easier, we've put together an easy-to-follow comparison guide on everything you need to know about making a decision to suit your exporting needs. To get your free copy, click on the link below.