It's easy to forgive someone for assuming that courier and postal services are the same thing. But they're not. A courier service is a premium, all-inclusive service which collects and delivers shipments in the shortest possible time frame, while postal services are generally used for transporting letters and parcels which can sometimes take some time to arrive at their final destination.
Here are other functions of courier services which makes it different to postal services.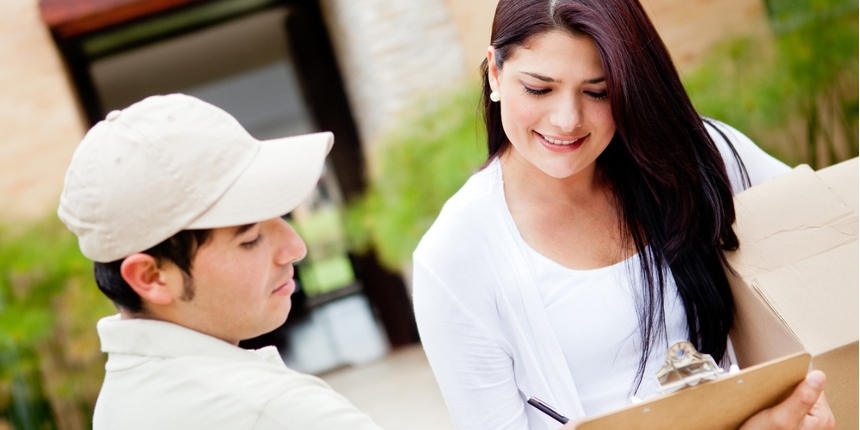 Speed and Efficiency
To preface this point, we're not saying postal services are slow and inefficient by any means. When you consider the volumes of packages and letters they handle and the speed at which they process all of the mail, it's always a good option.
However, a big function of courier services is the speed and efficiency of which they generally deliver shipments. So, if your business revolves around shipping internationally and time is of the essence, then a courier service can be the more effective option.
For example, a difference between both services is that courier services tend to provide specialist next-day delivery. Not only that but courier services can also offer more specific next-day delivery times and are usually a lot more specific compared to postal alternatives which don't offer a premium international delivery service.
You'll usually find that postal services tend to estimate delivery by a certain date, as opposed to a specific time. Although that's acceptable and there's nothing wrong with it, it doesn't mean it'll necessarily work for your business. Courier services, however, are able to provide an estimated time slot which is, in most cases, much more convenient.
In some cases, couriers like Crossflight can even provide a time-critical UK same-day delivery service.
Fewer Size Restrictions
What also sets apart courier services from regular postal services is that they have fewer weight and size restrictions when it comes to shipping goods.
When using a postal service, it's common to see size, weight and commodity restrictions which can stop you from potentially shipping goods to their destination. This is something which tips the scale significantly in the favour of courier services as opposed to postal options as you can ship goods with fewer restrictions - and do so easily.
Real-Time Tracking
Another function of courier services and how they differ from postal services is their ability to provide real-time tracking. That's not to say that postal services don't offer tracking features, although they tend to be more generic, such as where the shipment is located and the day it should arrive.
Courier services, however, provide you with real-time tracking so you know exactly where your shipments are. What also makes courier services more unique is that you have the ability to phone the courier company you work with to ask for updates as well. At Crossflight, our dedicated customer services team proactively manages all of your deliveries. So you can worry less about shipments and focus on core business tasks instead.
With dedicated customer service teams on the other end of the phone, you're a lot likelier to receive accurate updates of your shipments' whereabouts.
When shipping goods internationally, it's important you still have great visibility on where the goods you're sending are at. The easiest way to do this is through international tracking but again, this differs between courier and postal services.
If you select a postal service, then it's important to know that they only offer the most basic tracking (such as departure and arrival) when posting internationally. The only way you can get this added feature is if you specifically choose a mail service that offers tracking.
On the other hand, courier services always offer international tracking. Of course, some are better than others depending on the service you choose, but you can be sure that there will be a form of international tracking you can utilise.
Professional Packaging
While packaging might seem like a minor issue, there's still a clear difference between packaging when it comes to courier services and what makes them different from postal services. Regardless of which type of service you choose, it's incumbent on you to ensure your goods are packed correctly and meet the necessary specifications.
It's in both your and the courier's interest to make sure your goods are packed correctly. It means your shipments arrive at the destination safely.
Conversely, with a courier service, they can offer incomparable advice through their customer support teams that are on hand to provide expert guidance. This can include them assisting you with helpful tips to make sure that your shipments are sent safely and securely.
Couriers like Crossflight can, on request, arrange for your goods to be professionally packed prior to departure, making sure that any fragile goods arrive at their destination in perfect condition.
A regular postal service will also refuse to send any of your goods that appear to be unsuitably unpacked. That's where a good courier service can make the crucial difference, as they can provide a beneficial add-on service that others can't.
Duties and Tax
When sending shipments abroad, there can be issues surrounding duties and tax, and whether or not they apply to your shipment. When shipping goods through postal services, it's likely that they will charge the recipient for any duties or tax and payment having to be made before a shipment is handed over to the recipient which can prove to be disruptive.
Depending on the courier service you choose, they tend to offer something called 'deliver duty paid (DDP)'. This makes for a much smoother delivery experience as this sees the shipper tell a courier service like Crossflight that they will pay the duties so the recipient doesn't need to which can reduce any delays whilst waiting for payment from the recipient at destination.
In comparison, postal services will always charge your recipients any duty and tax which may be due, regardless.
Bespoke Services
Again, this can vary between courier services, so it depends on the one you select. When it comes to postal services, they tend to offer a one-size-fits-all approach, which works perfectly for certain shipments but not necessarily for businesses that are reliant on regular international shipments.
A courier service that offers bespoke services and applications is one you're likely to build a relationship with. With Crossflight, for example, our team of in-house developers can work with you to create bespoke applications to streamline the distribution of your shipments.
Plus, we can also seamlessly interface with your existing e-commerce site or order processing system.
Our bespoke options offer you the perfect delivery solution and support you by using the leading technologies around. With generic postal services, it's more challenging to build personal relationships as there's no real partnership that can be created to gain an in-depth understanding of your business.
With no or minimal understanding of your business and its needs, postal services perhaps can't provide the best possible bespoke solutions like courier services can.
Make Sure You Choose the Most Reliable Courier Service for Your Business
If you're sending important items via courier, then it's wise to choose a partner that you can trust throughout the whole process. To enjoy the benefits we've mentioned above and set your business up for success, we've created a comparison guide for you to compare small and large courier services to help make that decision much easier.
To get your free copy, click the link below.