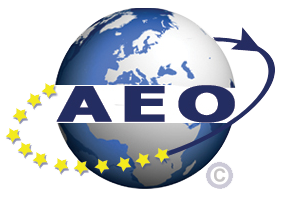 Authorised Economic Operator Status
If your business exports or imports goods globally it is vital that your chosen courier service provider's procedures and customs controls are as robust as they can possibly be, especially in today's security conscious world. Having access to much simpler procedures to get your shipments through customs safely and securely will be of great benefit to your business.

This is where having AEO status comes in. At Crossflight we are proud to have achieved this status, allowing us to pass on the many benefits of it to our customers. This allows us to further cement our commitment to providing solution for our customers that are flexible, reliable and provide exceptional value. Additionally, having AEO status is a great advantage when it comes to getting your shipments delivered to their destinations more quickly

What is AEO Status?

AEO stands for Authorised Economic Operator, and is an internationally recognised quality mark indicating that Crossflight' role within the international supply chain is secure and your procedures and customs controls are compliant and efficient.

While having AEO status is not compulsory, it does give faster access to certain simplified procedures when it comes to customs, and it can even get your shipments through some safety and security procedures much quicker. There are two elements to the status – AEOC for customs simplification, and AEOS for status and security. You can also apply for both.

In addition to these benefits having AEO Status can open the door to many others. For example, AEO Status shows that Crossflight have rigorous ways of documenting procedures and that the security of your supply chain is also stronger. This may in turn reduce the risk of theft incidences, or of losses in transit, and show that your customers, clients and partners that you take communication and security seriously. This leads to much greater customer confidence.

Crossflight and AEO Status

We are proud to have AEO status which gives us a great advantage when it comes to sending your shipments across the world safely, securely and quickly. We were one of the first UK courier companies to achieve this important accreditation, meaning you can be safe in the knowledge that your shipments will benefit from better security and fast-tracking through customs control.

With Brexit also fast approaching AEO status will be even more important as a recognised accreditation to keep shipments and cargo moving quickly and easily. Should the UK leaves the EU Single Market and the EU Customs Union, any products that are imported and exported from the 27 EU countries will be considered as international shipments.

Your shipments continue to be in safe hands with us thanks to our AEO status and our track record of operating for over 30 years as a distribution management specialist, giving you full peace of mind. Our services and solutions are personal, flexible and reliable and exceptional value is at the heart of everything we do.
For more information about AEO status visit - https://www.gov.uk/guidance/authorised-economic-operator-certification.