With regards to exporting goods, if a courier service is in possession of an Authorised Economic Operator (AEO) certificate, it automatically gives them the upper hand on their competition. But why? Well, this certificate is recognised globally as a hallmark of quality and demonstrates that a courier service is well-established within the international supply chain.
So, is AEO status necessary and are there any other main benefits to choosing a courier that obtains this? This post will outline everything you need to know.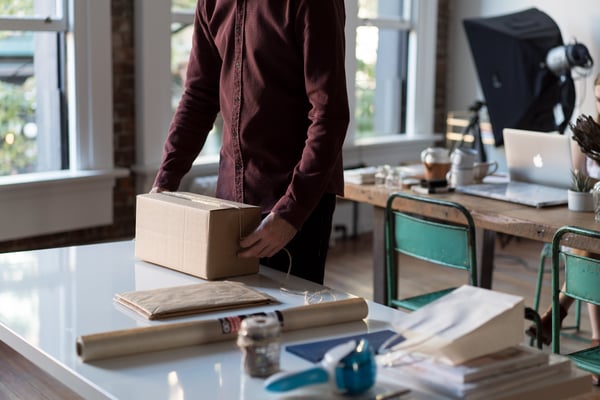 We'll cover:
What is an AEO?
AEO status is an international accolade that recognises quality. If a business has obtained this status, it shows that their role within the international supply chain is secured and that they're well-established within the industry. It's a hallmark of quality, therefore it gives businesses a competitive edge over companies that don't obtain this status.
It also shows customers that the business is capable of carrying out the correct procedures and meets both the EU standards and legal exportation requirements. Customers can put their full trust into AEO-certified businesses as these ensure that exported goods will arrive safely and in a timely manner.
Who Should Obtain AEO Status?
Any business that is directly involved in the international supply chain and carries out customs related activities within the EU is eligible to apply for an AEO certificate, no matter how big or small it is.
AEO certificates are for businesses that are:
Legal entities.

From a country that is an EU member state.

Involved in custom operations and international trade.

Owners of an Economic Operator Registration and Identification (EORI) number.
Are AEOs a Necessity for Courier Businesses?
Possessing an AEO certificate is not a necessity for courier services, but it's definitely a huge plus if they do have one. Obtaining this status requires a long, drawn-out process which has proved to put some businesses off.
So, when it comes to choosing your preferred courier, don't be alarmed to see that some businesses will have one and others won't. But, by choosing to work with a service that's recognised by this standard, you'll be opening yourself up to a range of benefits that you wouldn't get with other businesses.
With Britain's plans to leave the EU fast approaching, an AEO status is likely to increase in value due to couriers having to achieve this recognition before they can carry out exports and trade effectively within the EU.
What are the Benefits of a Courier Service Having AEO Status?
There's no denying that applying and trying to achieve AEO status can be a long process, but businesses will reap the benefits if they do so. There are many benefits to obtaining this status for both the business and the customers.
These are:
Priority clearance. Be safe in the knowledge that your parcel is going to get there on time with priority clearance. Your parcel will clear through customs quicker and it won't be held up at any point. So, you'll be receiving a quick and efficient service that will reflect well on your business as well as the courier service's reputation.

Reduced admin. This will save time and allow you to focus on other areas of the business or process more orders per day.

Trackability of goods. Track the journey of your parcel from the origin to its destination. Real-time updates allow you to notify your customer accordingly of when they can receive your parcel.

Increased transport security. You won't have to worry about your parcels being damaged in transit, or your customers receiving goods that have been tampered with.

Fewer delays in despatching your goods. Promise your recipients a quicker delivery time as it won't be held up waiting for it to be despatched.

Improved security between supply chain partners. Should anything go wrong with your parcel, you could retrieve the money back or find a replacement thanks to the relationship between your courier and the supply chain partners.
Choose the Right Courier to Work With
At Crossflight, we are proud to have been awarded AEO status which sets us apart from a lot of our competitors. You can put your full trust in us to get the job done efficiently and professionally as we strive for nothing but the best standards possible. Your shipments will reach their destination safely and quickly thanks to our extra security measures and customs fast-track service.
We have over 30 years' experience in the distribution management industry and we're proud to boast a personalised, flexible and reliable service. When choosing a courier, it's not a decision that you should make lightly. So, download our comparison sheet and see how we rank against our competition.
Grab your free copy via the button below.