Choosing a courier service to carry your goods is a decision you shouldn't take lightly. As a business, you need to be comfortable putting your trust in a courier service to collect and deliver your goods in perfect condition and in a timely manner. It can be difficult to distinguish between the competition, especially with there being so much out there within the industry.
Some common questions that are asked include: "What's the difference between small and large couriers?" and "What are the pros and cons of each?" So, this blog will answer both and explain everything that you need to know.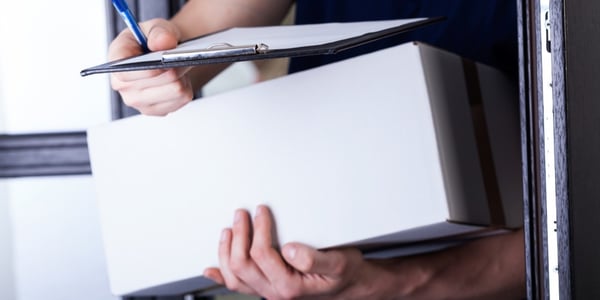 The Pros and Cons of Small Couriers
Pros
Ability to Provide a More Personal Service
Small couriers can generally provide a more personal service than large couriers. Due to their close-knit teams, smaller couriers are more likely to become familiar with your business and can potentially offer a more tailored service.
Stronger Relationships with the Rest of the Courier Team
The smaller the courier's team is, the more likely you are to get to know everybody. This is a great benefit to have should your account manager be out of the office and you have a query that needs dealing with.
Custom is Likely to be Regarded of More Highly
The more orders you place with a smaller courier, the higher they may regard your custom. This can be great as if you ever needed a last-minute delivery, they're more likely to be willing to accommodate - if they have the facilities and network to manage it.
Increased Likelihood of Flexibility
Smaller couriers may also have the ability to be more flexible with their customers. This is due to them not being tied to rigid processes and stops you from being tied to a one-size-fits-all service. Small couriers are also less likely to have call centres, giving you the opportunity to speak with a familiar voice who knows and understands your business.
Cons
Potential to Not Be as Stable as Larger Couriers
Smaller couriers tend to not have the stability of larger couriers. A lot of this comes down to financial backing and problems could arise that you're unaware of when first working with a smaller firm.
With this responsibility on your shoulders, it's important that you recognise these potential issues beforehand.
Limited Resources and Network Supply Chain can Lead to Service Restrictions
Smaller couriers don't the same network supply chain or as many resources as large couriers do. Therefore, there might be fewer options to take advantage of should potential issues arise.
This shows that smaller couriers might not have the network base to deal with special requests as large couriers will. Plus, there may also be more restrictions to the service offered. So, there's a chance you'll have to settle for a one-size-fits-all approach rather than a service catered to your needs.
The Pros and Cons of Large Couriers
Pros
Large Number of Clients and Extensive Experience
Larger couriers are likely to have worked with an extensive number of businesses and dealt with a wide range of situations. Therefore, when shopping around for the perfect courier, you're likely to be able to find a similar business that you can base their service on. This'll allow you to gauge how your relationship with that courier may be.
Robust Infrastructure
Large couriers do have the infrastructure in place which allows them to utilise the latest innovation and technology. This usually means they can provide real-time updates so you can see the process of your shipments at all times. This is beneficial for both you and the recipient of your goods.
Cons
Potentially Impersonal Service
Due to their mass number of clients and bigger teams, the service provided by larger couriers can often feel impersonal. Call centres, faceless live web chats and dealing with a different person every time can leave you feeling like you don't really know the courier at all.
This doesn't help if you want to work with a courier service that offers a personal service and becomes an extension of your business.
You may feel that you're just another client to them, which is a contrast to that tailored, dedicated service you should be receiving.
Potential to Over-Control Your Existing Processes
Larger couriers may want too much control of your processes and could end up disrupting the way you go about your operations. Having to change the way you work may not go down well with internal teams or management. Plus, it may incur some extra learning time to adapt.
Difficulty in Fulfilling Bespoke Requests
Last-minute orders and requests can be pretty tricky with large couriers. Usually, their services are rigid and finalised, so trying to scope that flexibility you need may prove to be a problem.
Are Couriers in the Middle the Way to Go?
When looking for your courier, you need to make sure that you choose a distribution management specialist that's perfect for your business. Sometimes, couriers that make the most of the benefits of small and large couriers are the perfect option to look after your deliveries and exports. But why?
Well, like Crossflight, couriers that are in the middle can bring the best of both worlds to the table. They offer the personalised service of a small courier but with the ability to take advantage of a large network of partners.
It works perfectly as the benefits of both sides dovetail to provide a seamless service.
To make sure that every shipment is delivered on time, medium-sized companies have the resources to invest in efficient intelligent routing systems. This is great for businesses as they can have confidence that they're working with industry-leading, cutting-edge technology.
Medium-sized couriers are a partner for you to grow with. They're not a faceless service, they actually care and are determined to get the job right every time. At Crossflight, our dedicated and experienced customer services team work with you and build a strong relationship, plus offer insightful expert knowledge for you to take advantage of.
That means you can stop spending precious time spinning multiple plates and fighting many fires and instead, focus your time on other areas of your business.
Choose Crossflight For Your Courier Service Needs
As we've mentioned, medium-sized couriers can be the perfect solution for your business' courier needs. As a distribution management specialist, you can rely on Crossflight to get the service you deserve and desire. But, don't just take our word for it.
Download our free comparison below and see how Crossflight compares to the other competitors in the industry.