When exporting goods to international destinations, the very best couriers do more than just find a route between point A and point B. Choose the wrong route and your items might arrive late, be held up at customs or go missing entirely. Some couriers use intelligent routing software which can benefit your business. Here's how.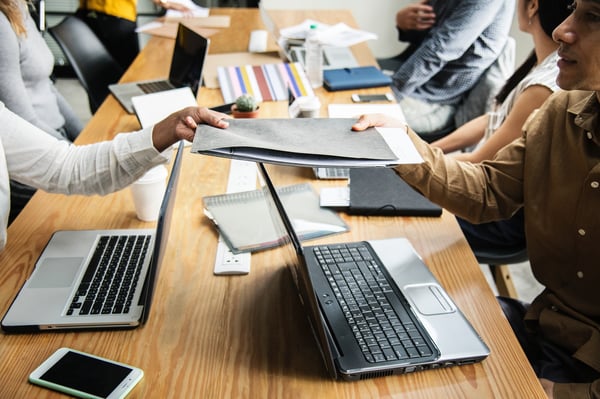 How Do Exporters Choose Delivery Routes?
There are four networks that exporters use when moving goods. Depending on the destination and the items you're sending, they can use a combination of road, rail, air and sea freight networks to deliver them to both domestic and international customers.
After taking a booking, there's usually a favourite route that the system will choose. Finding the fastest route between two places is straightforward but could lead to problems down the line.
The first key consideration involves the choice of transportation networks. Some destinations can only be reached by certain methods but usually, a decision needs to be made. Each method has its benefits and drawbacks which need to be taken into account.
Your courier will know which of its partners are in the best position to move items in the most efficient way. For example, they'll know which airports are the quickest at moving through certain types of shipment.
Time and money are the two biggest factors that influence this decision. How quickly do the items need to reach the destination (in one piece) and how much money is someone willing to spend to make it happen? To make sure the right decision is made some couriers use a system called intelligent routing.
What is Courier Intelligent Routing?
Intelligent routing takes all kinds of different factors into account when making a decision on the journey that a shipment will take. Expert couriers can find a wide range of possible options then choose between them.
As we've already said, there's more to exporting than finding a viable route, especially if there are several destinations that need to be reached on the same journey. Intelligent routing might find that it's better to take a slightly longer route in a geographical sense because there'll be less chance of delays at border stops.
The intelligent routing software also ensures that the courier chooses the right suppliers to work with throughout the entire journey of an item. At Crossflight, our software is continually updated using assessments of our suppliers' performance to make sure we're only ever working with the very best organisations in the industry.
Just because there's a commonly used route when transporting goods between popular destinations, it doesn't mean that route is the right one for you. We take into account documentation, charges, the items you're sending and even the weather conditions before deciding on a route.
The software isn't used by many couriers in the industry - despite the many obvious benefits it has for businesses - because they don't have access to a team of in-house developers. Crossflight's system was built by our team and uses intelligent routing as part of our high-quality service for clients.
Intelligent routing is just one of the steps that Crossflight take to make sure each and every shipment is a success. We focus solely on air and road networks thanks to their reliability and convenience. Difficulties at customs are a leading cause of delayed shipments, but our comprehensive understanding of customs clearance requirements ensures that your goods pass through quickly and smoothly.
We always make sure the right documentation is filled out and sent with goods so there's less risk of hassle trying to solve problems further down the supply chain.
Our dedicated account managers take the time to get to know your business and understand its specific needs. This way, they're able to offer a bespoke and personal service that helps you with your individual requirements.
See How Crossflight Compares to Other Couriers
Deciding on a courier to work with can be a difficult decision, especially if you're new to exporting. Crossflight offers intelligent routing but that isn't the only feature that sets us apart from both large and small alternatives.
To make comparisons a little easier, we've put together an eBook that features everything you need to make a decision that suits your business' needs. Download your free copy of the eBook now using the link below.