If you're regularly dealing with lost shipments or late deliveries , and ultimately disappointed clients as a result of your courier, then you'll know that they're probably not the right courier for your business. Here are some of the things that make a bad courier service.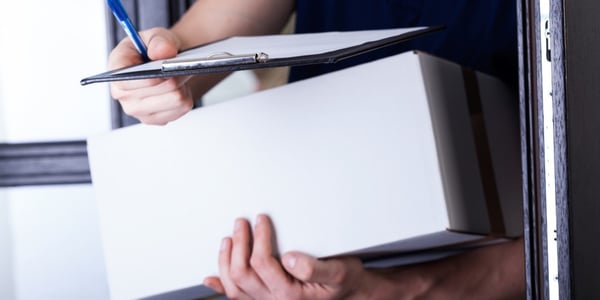 1. Delays at Customs
You might expect some kind of delay as items pass through customs. A small delay isn't uncommon but as long as your shipment was sent with the right accompanying documents, then it shouldn't be too severe.
If you've started to notice that your deliveries are regularly facing delays as they pass through customs, then it's a possible sign that your courier could be a little inexperienced. Every courier is treated equally at customs but the best ones are those that make sure all of the shipment's documentation is perfect and can spot a problem before it becomes a major issue.
2. Poor Communication
When you're managing multiple shipments, dealing with expectant clients and trying to keep track of stock, the last thing you need is a courier that's difficult to get hold of. For instance, no one wants to be greeted by an automated message when all you need is a quick answer to a question that you have.
Communication is key for couriers of all sizes. The right courier should always be available to offer expert help and guidance. They'll also be willing to communicate with you in the way you find most useful - whether that's via a quick phone call or email or video conference.
Either way, you should feel comfortable enough to pick up the phone at any hour of the day and speak to someone you know.
3. You're One of Many
The larger the courier, the more clients they regularly work with. It's easy to get a little lost in the crowd and feel as though they aren't supporting your goals as effectively as they could be.
A good courier will assign an account manager to deal with your business. They're tasked with getting to know your business so they can potentially offer bespoke solutions that will suit your specific requirements.
You should get to know this person or team and feel as though you can trust them with important business decisions.
4. Reluctant to Offer Bespoke Services
When sending shipments, either domestically or internationally, there's often a small detail or complication that threatens to make things a little complicated. It may be a tight deadline or fragile goods that mean you need a bespoke service.
Good couriers will always show flexibility and try to find creative and effective solutions to your problems. They should be willing to go the extra mile to carry out a delivery that you thought they'd struggle with. If a courier is merely satisfactory, then they're more likely to be rigid and try to make your delivery fit their existing service.
Look over our case study for an idea of how couriers implement bespoke solutions.
5. Quick to Promise, Slow to Deliver
It's so frustrating to be promised a deadline that the courier knew they'd struggle to meet. You'd rather the courier tell you straight away that there might be delays so you can work together to plan accordingly.
Choose a courier that is honest and transparent at all times. Bad couriers might keep you in the dark, so you're unprepared for missed deadlines. A good courier will always be realistic about their promises and quick to communicate issues so you're in the loop at all times.
6. Stuck in Their Ways
New technologies and globalisation have dramatically transformed courier services in recent years. This means that the way couriers operate has changed too. To avoid being left behind, couriers need to adapt their techniques and embrace new ways of thinking.
If the courier you work with is doing something "because that's how it's always been done", then that may be a sign that they're a little reluctant when it comes to change. Good couriers will experiment with new ideas and technologies to make sure they're providing the best possible service to all of their clients.
Some of these bad courier service signs are difficult to spot and a little nuanced. Keep in mind that many couriers aren't necessarily providing a bad service - they just might not be doing everything they can to meet your specific requirements. Finding the right courier for you isn't always easy, which is why we've created a free checklist.
Get Your Copy of Our Free Checklist
Our checklist includes some of the other signs that it's time for you to find a new courier, plus some of the features a good courier will offer so you know you're making the right choice. It's filled with useful questions to keep in mind when speaking to prospective partners to help you to narrow down your choices.
Get your free copy of the checklist now by clicking on the link below.