Once goods have left the warehouse and started their journey towards their final destination, it can be difficult to know exactly what's happening as they pass through different borders and customs checks. If serious problems arise while you're thousands of miles away, then it can be difficult to keep everything on track.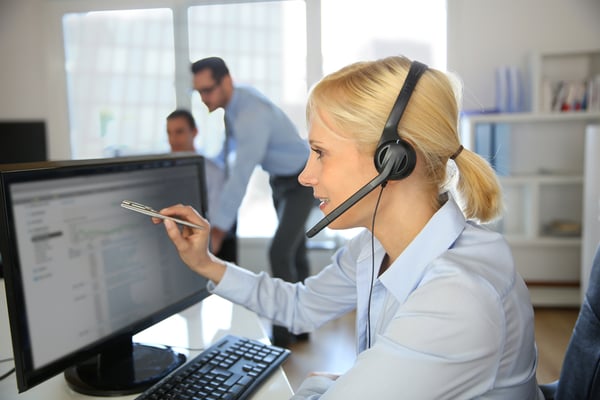 This is why a proactive approach to shipment tracking is so much better than a reactive one.
Proactive Shipment Tracking from Crossflight
The Crossflight customer service team constantly monitor shipments that are travelling by air or road. This proactive approach allows them to spot possible issues that might arise and take the necessary steps to ensure they're dealt with.
For example, if the team realises that a particular transit point is experiencing delays, which will be immediately communicated back to the shipper. This proactive approach is favoured by clients because they're always kept in the loop and informed of any changes. They're less likely to be frustrated if they know there's an issue well in advance that you're finding a solution for, than if they're told once the issue has become a serious problem and it's too late to do anything.
Our myCrossflight portal allows you to enter your shipment number and track its progress every step of the way.
With myCrossflight, you can easily log in at any time and see how shipments are progressing. There's no need to contact anyone as you can access important tracking information easily from your computer or phone. This takes all of the guesswork and stress out of exporting.
myCrossflight retains all of your shipment history so you can easily refer back to any of the shipments you've processed in the past if for any reason a client queries something. Shipments can be sorted by date, address, reference number, invoice number or shipment number.
...And This Approach to Shipment Tracking is Just One Part of Proactive Customer Service
One thing to keep in mind is that a proactive approach to shipment tracking is part of a bigger picture - which is great customer service. And that's something the right courier will be able to provide.
At Crossflight, we offer a more personal and proactive service than the largest couriers but also system integration and competitive pricing that the smaller couriers don't. We sit in-between them, offering flexible courier services to domestic and international destinations.
Proactive shipment tracking is just one of the benefits you'll receive if you choose to work with Crossflight.
Crossflight have developed intelligent routing software to ensure that all shipments take the most efficient route. The software is also used to monitor the performance of the suppliers and partners that we work with. This constant measurement makes sure we're always working with the best possible people.
We take the time to get to know your business and its needs before recommending a course of action. The customer service team work hard to make Crossflight your partner, rather than just your courier. By creating a trusting relationship, our clients can focus on other projects, safe in the knowledge that their shipments are in safe hands.
We're trusted by over 1,600 companies worldwide and it's this experience that makes shipping with Crossflight so efficient and stress-free. For example, our years of industry experience helps us when it comes to moving goods through border controls. Our comprehensive understanding of the requirements needed to get through customs quickly ensures items arrive on time.
There are hundreds of possible couriers to choose from, so how do you know which one is right for you? Here are a few questions to keep in mind:
Are there dedicated account managers who'll take care of every aspect of your shipment?

Do they create bespoke applications to streamline the distribution of your shipments?

Are there specialist courier services to help time-critical items reach their destination on time, like an onboard courier and professional packing?
Feel free to contact the Crossflight team to find out more about the export services we offer by clicking the button below.
Finding the Right Courier to Suit Your Needs
To help you compare the different courier options available to your business, we've put together a comparison guide. The free download outlines the services offered by couriers and the pros and cons of working with each. We've then compared both large and independent couriers with Crossflight to show how we're the best option for you and your business.
Don't just take our word for it; download your free copy of the Crossflight vs Other Couriers guide now using the link below.