Although it isn't compulsory for couriers to carry the Authorised Economic Operator (AEO) certification, those that have been awarded the recognition can offer plenty of benefits. AEO is an internationally recognised accreditation which highlights that exporters and couriers offer the most secure and reliable services possible.
Here's everything you need to know about AEO status, the benefits of the certification and more.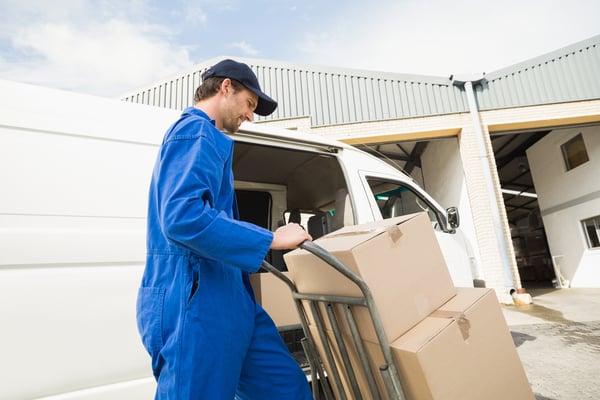 What It's For
AEO status allows couriers to show the clients they work with that they're professional, efficient and can be trusted with their items.
The quality mark indicates that AEO-certified couriers within the international supply chain are secure. It also indicates that procedures and custom controls are both compliant and efficient.
Depending on the type of AEO certification, you can receive many benefits by working with couriers that have been awarded this status. We'll quickly discuss the types below.
Types of AEO Certification
AEOC: The Customs Simplification AEO Certificate allows couriers to move goods in temporary storage through different EU member states while offering more simplified options for regular shipping services.
AEOC holders can qualify for reductions or waivers of comprehensive guarantees as well as being able to move goods in temporary storage between different member states.
AEOS: This Security and Safety Certificate lets couriers benefit from reduced requirements during pre-arrival and pre-departure. A lower risk score is also given which is used to calculate how often customs carry out documentation and physical checks, which takes a lot of time.
AEOS status also means couriers benefit from reciprocal arrangements with countries outside of the EU.
AEOF: You aren't able to apply for this Certificate, as such, as it's a combination of both AEOC and AEOS, and applicable only to holders of both.
The Benefits of AEO
Quicker and Simpler Procedures
Companies with AEO status - of which there are reportedly only 702 in the UK (and not all of them are couriers) - have much faster access to certain simplified procedures when it comes to customs. This comes down to having robust and secure processes and supply chains - the result is that accredited companies are better trusted by Customs.
A welcomed benefit for UK businesses is that shipments reach their destination quicker and easier.
Rigorous Security
AEO status shows that couriers have rigorous methods in place to document procedures and the overall security of the supply chain is also much stronger. Through these security measures, many risks are lowered. For example, theft incidences and items getting lost in transit.
As a result, customers can be much more confident working with AEO-certified couriers as it shows that they take security and communication seriously.
The Impact of Brexit
An AEO certificate is likely to be even more important for UK couriers once the UK officially leaves the EU. This is because shipping to the EU may end up being, in effect, like any other international shipping.
Priority Clearance = Timely Delivery
Courier services with AEO certification have the right for consignments to be effectively 'fast-tracked' through customs clearance. Not only that but when goods are subjected to inspection, they will also get priority over others.
Some other benefits of AEO status include:
Reduced administration.

Improved traceable flow of goods.

Increased security during transports.

Greater access to priority if cargo is selected for examination.

Fewer delays in dispatch.

Improved security throughout between supply chain partners.

Quicker and improved access to certain customs procedures.

Reduced red-tape caused by administration issues.
Choosing an AEO-Certified Courier
By choosing to work with an AEO-certified courier, you're working with a service provider that's genuinely worthy of the certificate as only those that meet the strict compliance standards set by HMRC are awarded the accreditation.
Plus, you'll be safe in the knowledge that the AEO-certified courier service has procedures in place to spot potential errors and they can be relied upon for even the most sensitive of items, such as military goods and hazardous materials.
Working with an AEO-accredited courier service also means you're working alongside a team that's committed to providing flexible and reliable solutions to their customers while also providing exceptional value.
However, perhaps the biggest benefit of choosing an AEO-certified courier service is that your shipments are delivered much quicker - something that's now an increased demand.
You'll also have that important peace of mind that you're receiving exceptional value by working with a service that's proven to be trusted. With HMRC checking the financial history to see if any infringement of custom rules have been committed and revoking certifications if so, there's no risk of you working with an unreliable company. You'll never be kept in the dark.
With additional security measures in place, you can be more confident when choosing an AEO-certified courier service.
Crossflight became one of the first courier companies to receive AEO accreditation in Europe, achieving the status in 2009 with the internationally-recognised mark of quality reflecting our reliable and flexible services.
This gives us a great advantage when it comes to sending your shipments across the world safely, securely and quickly.
Since then, we've continued to meet the ever-changing and demanding expectations of the public to ensure all of our clients reap the benefits. This means you can be safe in the knowledge that your shipments will benefit from better security and fast-tracking through customs control.
Make Sure You Select the Right Courier to Work With
When it comes to choosing a courier, accreditations are just one of the many factors you need to consider. To make sure you're in the best position to confidently choose the right courier service for you, make sure you download our guide that compares Crossflight to other major courier services.
To get your free copy, click on the link below.