Although the postal industry is regulated by Ofcom, finding out who regulates courier services isn't as simple. It might surprise you to learn that courier services aren't actually regulated by anyone. However, that doesn't mean they're any less reliable, experienced or the perfect fit for your business.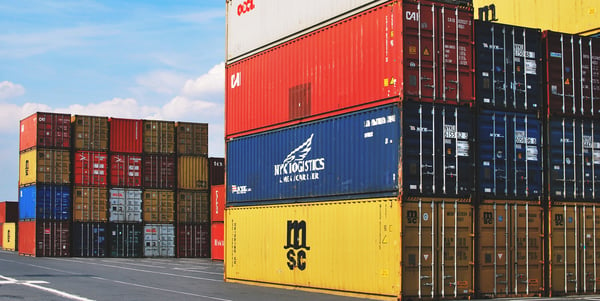 Rather than solely focusing on the regulation aspect when deciding on a courier to work with, here are six things to look out for as well. All of these are equally as vital and will put your mind at ease - helping you make a decision much easier.
1. Look into a Courier Service's Accreditations
Arguably the most important factor that typically comes into the equation when picking a courier service is the relevant accreditations, certifications and awards they possess. Having these readily available to see acts as evidence that a courier service knows what it's doing and has been recognised by the relevant bodies.
Courier services are required to both meet and maintain high standards and quality levels. Continuously excelling allows them to keep hold of their accreditations which shows business like yours they can be relied on.
Rather than remaining fixated on regulation, make sure to keep an eye on the types of accreditation a courier service holds, such as AEO status, ISO: 9001 and ISO:14001.
If a courier service isn't shy from displaying this information, then you have the evidence that the courier service is qualified enough to carry out the high level of work that your business requires.
2. See What Others Have Said in Customer Testimonials
To really get a true idea of the experience a business like yours has had with a courier service, see what they've said in customer testimonials. While having a regulatory body does show transparency, so does a courier service's commitment to being completely honest by displaying this information.
Like the accreditations, courier services that showcase customer testimonials signals their honesty, transparency and that they have nothing to hide. At the same time, you'll learn what their customers really think about them and understand how much the courier service's customers value them by checking what they have to say.
The more honest testimonials you see, the more it can say about the courier service and their commitment to being honest with you. It also shows the experience they have which is an added bonus to consider. For example, a new courier service might be reliable, but they might not have worked with enough businesses to receive testimonials.
3. Find Out What Their Customer Service is Like
Reliability is crucial when it comes to working with a courier service. You need to be certain that your partner is one that has your best interest's at heart and one you can turn to for assistance.
That can be achieved through the level of customer service they offer. The last thing you need is problems with deliveries which take your focus away from other core business tasks.
A high level of customer service is important to look into. A good courier service will have a dedicated team on the other end of the phone that proactively manages all of your shipments.
Having a customer service team you can call up and instantly recognise who you're speaking to is beneficial. Not only will you be alerted at the earliest opportunity to potential errors but you'll also talk to somebody that knows you and your business. After all, even if courier services were regulated, it doesn't mean they won't have below par customer service.
4. Check How Flexible They Are and If They Offer Bespoke Solutions
To benefit from an enjoyable customer experience with less hassle, look for a courier service that offers greater flexibility. For example, they might offer flexible delivery options to you rather than a one-size-fits-all approach where the requirements might not fit your particular business needs.
In some cases, a courier service might even offer you a bespoke solution. Going the extra mile is another way of showing that you can trust them, so don't let a lack of regulation put you off when there are still so many benefits.
The best courier services should be able to work with you to create bespoke applications designed to streamline the distribution of your shipments. At Crossflight, for example, we've successfully created and implemented custom integration solutions for clients.
Offering extra services like these shows that a courier service partner is willing to work with you, so no regulation shouldn't really matter.
5. Consider How Much Knowledge They Bring to the Table
Knowledge, experience and expertise are often the first traits businesses like yours look for in a courier service. These are what contribute towards courier service receiving those accreditations and being a favourable partner for many businesses.
Working with a courier service with years of prior experience suggests that they're perhaps more reliable as they've been around longer compared to newer alternatives. With a proven track record, they can be seen as 'risk-free.'
This knowledge can help in other areas too. For example, a particular courier service, like Crossflight, might have the know-how of getting customs clearance paperwork right at the first time of asking. This extra knowledge means they're likely to know if a shipment will have trouble at customs.
The level of knowledge at your disposal is another important aspect to consider rather than putting an emphasis on a regulatory body.
To check how much knowledge the prospective courier truly brings to the table, test them with a previous poor experience or issue your business has faced to see what solutions they can come up with. The more helpful solutions they can offer, the better.
6. Focus on Their Commitment to Building a Relationship
Finally, another aspect which is often overlooked yet extremely beneficial is how committed a courier service to build a lasting relationship with your business. If you're regularly shipping goods or your business is reliant on exporting, then it's important to choose a courier service that you can actually build a rapport with.
This allows you to put a face to a name while building a level of trust which isn't always easily achievable with every courier provider out there. Your business won't feel like an ordinary customer either. By having that constant communication and solid relationship, they're likely to solve issues sooner, complete ad-hoc requests and even complex projects.
So, even though nobody regulates courier services, it's evident that there are some clear-cut signs you should be aware of in order to work with a partner you can rely on. Although, there's a lot more to think about when trying to pick the right courier. To help, we've created a free checklist…
Make Your Courier Search Easier With Your Very Own Checklist
Along with the signs we've mentioned above, there's more you need to think about when finalising a courier service to work with. In the end, it's all worth it as you'll find a courier service that's perfectly compatible with your business.
In our checklist, we've included information on the telltale signs that you need a new courier, features to look out for, choosing the right one and so much more. To get your free copy, click on the link below.